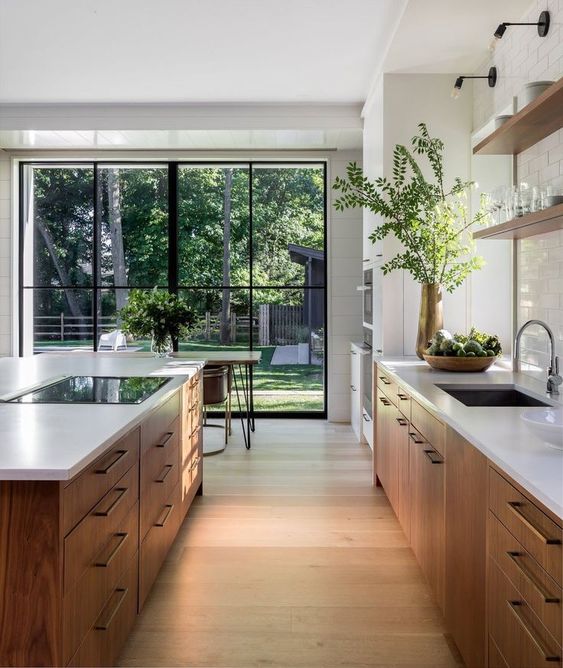 CREATE YOUR DREAM KITCHEN
You would like to have a beautiful, spacious and luminous kitchen to cook good meals for your family. You would also like to have big pantries to store easily all your food and make it easier to navigate. You dream about having a massive island where you could sit all your little family for breakfast?
As we can see in the television shows on Canal Vie, such as "C'est quoi ton plan" with designers Denis Bourgeois, Caroline Dragon and Chantal Couture, people invest some 50 000$ to renovate their outdated kitchen. Interior designers and kitchen designers create innovating and surprising concepts to meet the needs of the client, they maximize each square foot of space. The advantage to asking for an interior designer's help is that we will evaluate the project in the whole house while arranging the rest of the decor for everything to be harmonious. While if you go directly to a kitchen cabinetmaker, well he will only be able to work on the kitchen cabinets, not on the complete layout. If you are looking for the "WOW" touch of a designer, reach out for a kitchen designer who works with reliable collaborators, experts in construction: cabinetmaker, general contractor, installer, etc.
Here are some ideas to help you define and plan what you would really like to include in your dream kitchen design. There is a panoply of other basic elements that you'll find in your kitchen's arrangement (electro, drawers, materials, etc.) that I don't talk about and about which you'll be able to discuss during your first meeting with your kitchen designer.
Idea 1 to integrate to your kitchen design: A MASSIVE ISLAND
The reason for which most families renovate their kitchen is to add an island. Often it implies to make walls fall, if they are bearing walls, we must work also with a structure engineer to complete the kitchen designer's plans. The island is popular for its practical side, it procures a big work surface to spread all the necessary ingredients to make your favorite recipe and it is easy to clean. Hosting around an island is fantastic, we can place starters there, beverages and discuss standing while the host finishes cooking supper. The trend is toward more and more massive islands, 7, 8, 10, 11′ of length, why not! The goal is to include a maximum of storage and sited places 4-6 places. For your kitchen design to be well realized, pay attention to the island's finish. It is important to finish well the sides either with a quartz drop or a cabinet panel to make sure to have a massive and high end look. Avoid letting the counter's ends hanging in the void, it isn't very aesthetic.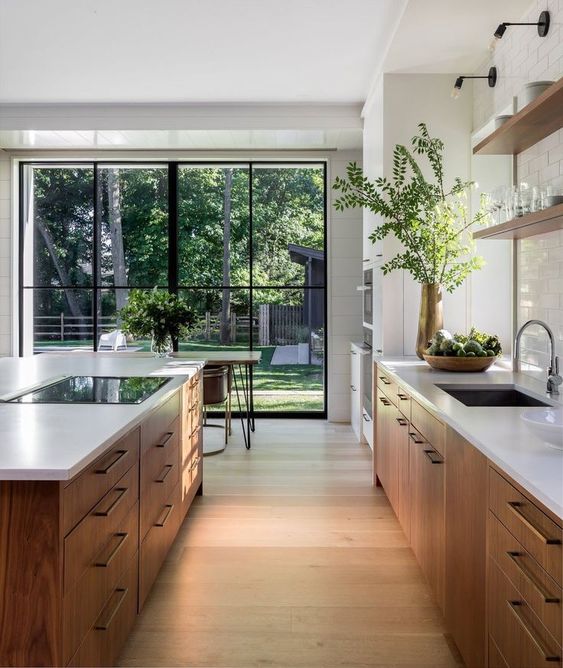 Depending on your kitchen layout, it can be practical to include a little bar format sink in the island. The small bar counter sinks are around 15" of width and we usually add a smaller tap. Another interesting accessory to include in the island is a hole for the compost bin, it enables you to cut your vegetables and throw away the scraps easily. It is not everyone that likes that however! You should see according to your needs with you kitchen designer. There is also the butcher's board that is really pretty to add to your island counter! She is made of massive wood, glued together and it should be maintained with oil occasionally. If your island is small, however, I advise to put nothing as an accessory in the counter.
Idea 2 to integrate to your kitchen design: A CATHEDRAL CEILING
What is better than having large high ceilings in a house, it changes everything! If you can afford it, it really is worth it. As the kitchen is the place in the house where we gather the most and where we also spend a lot of time preparing meals, it is a beautiful room to integrate high or cathedral ceilings. To highlight your beautiful ceiling, an interior designer's tip is to energize it by integrating beautiful wood beams or a white wainscot texture.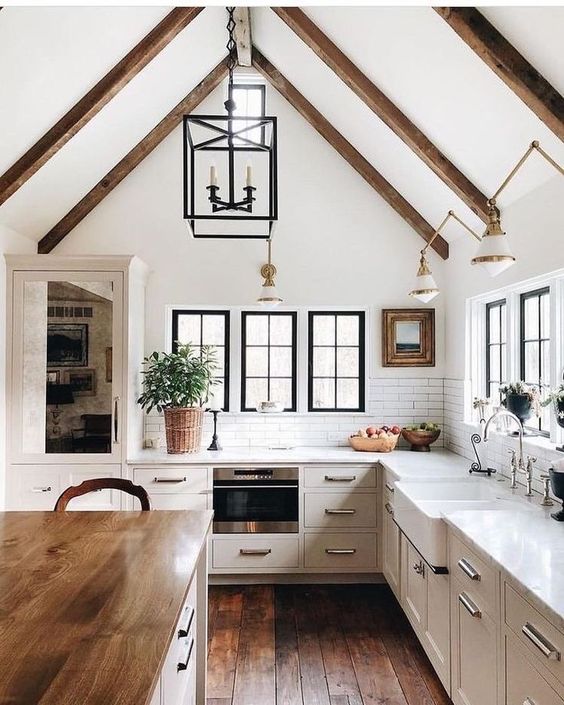 For lighting, it should be well planned. Many suspended lamps are adapted to angled ceiling and you should make sure to choose long enough lamps for you ceiling. Inquire with your kitchen designer or a specialized lighting store.
Idea 3 to integrate to your kitchen design: LARGE LUMINOUS WINDOWS
Small, dark and stuffy kitchens are out, we want big spacious kitchens with large glazed openings on the backyard full of greenery! The variety of doors and windows on the market today is totally delusional. We can have doors that open like an accordion to have an inside-outside kitchen effect. There are 10′ patio doors that open with a pinkie finger! There are also windows available with three glasses of thickness to obtain a particularly pleasant comfort in winter (no coolness) and that are very insulating in summer to block the heat.
A window as a backsplash? Depending on how your kitchen is arranged, maybe your interior designer could advise you to include a window as a backsplash. It is a really beautiful design option. This only thing is to pay attention to not put the window above the oven or in a busy zone of the kitchen, maintenance matter.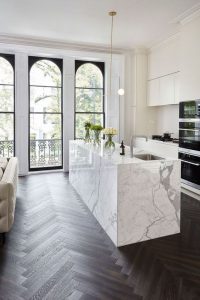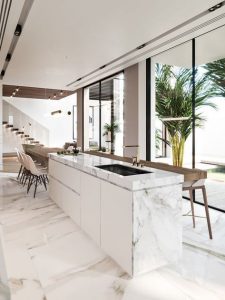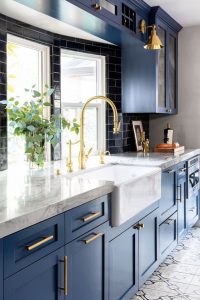 Idea 4 to integrate to your kitchen design: A KITCHENETTE CORNER
A trend that we see a lot in American houses and that starts to become popular in Quebec is little kitchens neighboring the principal kitchen. It really is the dream! In this little kitchen, we ideally find a second fridge, a dishwasher, a sink and a pantry storage. The entry to this kitchen is often hidden in the principal kitchen's cabinets. That is to say that its entry is a cabinet door like the others, but when we open it, we enter another room. The concept of arranging a kitchenette in the kitchen's plans is to keep the over of food, dishes and kitchen appliances. It allows to also keep in a closed place the recipes that ask for a rest time. Finally, it also allows to hide the dishes from a party to attack the chore the next morning. Quite practical! To do so, it takes the necessary space in your house, you must plan the layout with your kitchen designer.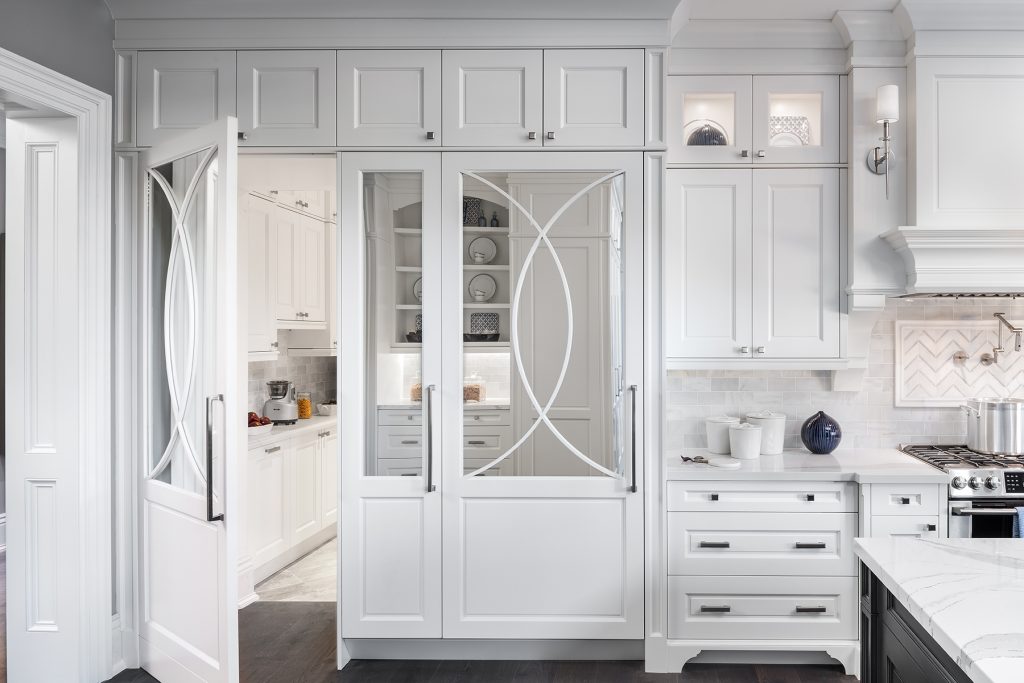 Idea 5 to integrate to your kitchen design: A GLASS WINE CELLAR
A bar corner is a good design and practical idea to integrate in your kitchen layout. It doesn't need to be very big to be sensational! However, if you really wish to exit the deja vu in arranging your kitchen, a glass wine cellar is a must. You can integrate it to the dining room and the kitchen to make a half-division and highlight it. It shouldn't be too imposing, everything is a matter of proportion. A kitchen designer will be able to make 3D simulations with your kitchen concept.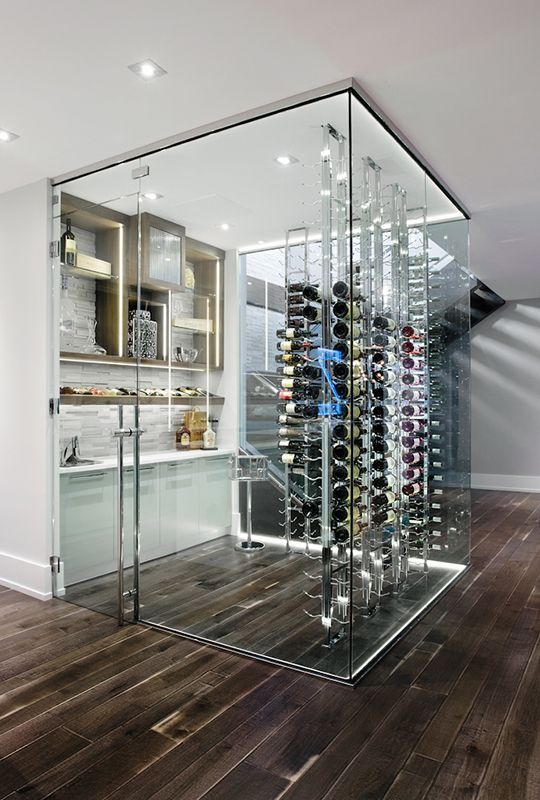 To build a glass wine cellar in your kitchen's layout, there are some important elements to consider. We must choose a good air conditioner to keep the room temperature to an ideal degree for the wine's conservation depending on the size of the room. Then, the glass and the door system choices should be impervious. The glass is custom made by a glazier. For the shelves design, wall covering materials, etc., there is no real restriction, it depends on your tastes.
Idea 6 to integrate to your kitchen design: A POT FILLER
Once again, this trend isn't common in Quebec, but we see it more and more in the high end kitchen design. The pot filler tap is detailed at a price between 200$ and 800$ depending on the quality. To install it, we should plan the plumbing during the kitchen's renovation. It is a little additional cost, but really practical to fill very big cauldrons. Think about it with your interior designer!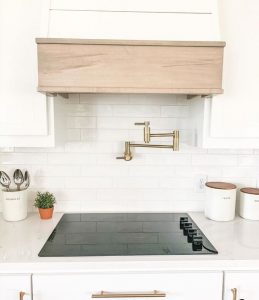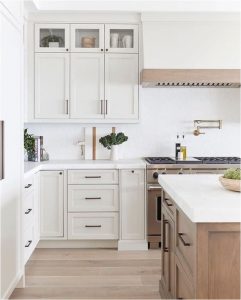 Idea 7 to integrate to your kitchen design: Quartz backsplash
The backsplash, or also called Dados, is the part of the wall between the high kitchen cabinets and the counter. Usually, we see kitchen backsplashes made of ceramic or mosaic, but the problem is the grout!! In my experience as an interior designer, clients shared with me their frustration about it! Grout is often problematic when it comes to maintenance, it stains, yellows or blackens. However, there are really efficient cleaners to clean it, but it's a meticulous task. To prevent stains, we recommend applying matte finish grout sealant every year, but it is often forgotten. The solution to have a joint less backsplash is definitely to install a quartz backsplash in the same color as your actual counter. The extension of the color and the matter will give a height impression! Quartz is a very luxurious, resistant and easy to maintain material. Having a quartz backsplash in your kitchen concept will make people talk.
Idea 8 to integrate to your kitchen design: HIGH GRADE HARDWARE
To have a lasting quality kitchen, the kitchen cabinets fitting choices for the opening and closing are really important. The leader company in kitchen cabinet's hardware is BLUM. They offer refined interior drawers and slides and hinges with shock absorbers for all the needs in your kitchen layout. Their new products are shelves with blocking and the step drawer. The removable shelf enables the easy access to a mixer at counter's height without having to take it out of the cabinet. The step drawer is placed in the lowest kitchen cabinet, at kick level, it has a rubber shelf that we can use as a step to access the higher cabinets. Height problems in your kitchen design are over.
In another order of idea, I would like to present to you two kitchen concepts that will make you dream. Monochrome decors are particularly chic and singular. Interior design is often like dress fashion. Think about a monochrome outfit from head to toes, it stands out, it is so pretty and advantageous for the silhouette. Arranging a kitchen in an only color gives the same effect!
Monochrome kitchen design 1: The luxurious white kitchen
The white kitchen is a classic since many years and it's still a must today to create a beautiful kitchen concept. It's a good example of timeless kitchen. Whether you prefer a very modern style with glossy doors or a more classic style with framed doors (called Shaker) the white kitchen could suit you. She is very versatile in style and materials choices. I give you a little interior designer trick, it isn't because you do a monochrome kitchen that colors are easy to match! We have to make sure to choose materials that are in the same color family, warm white, cold white or neutral white.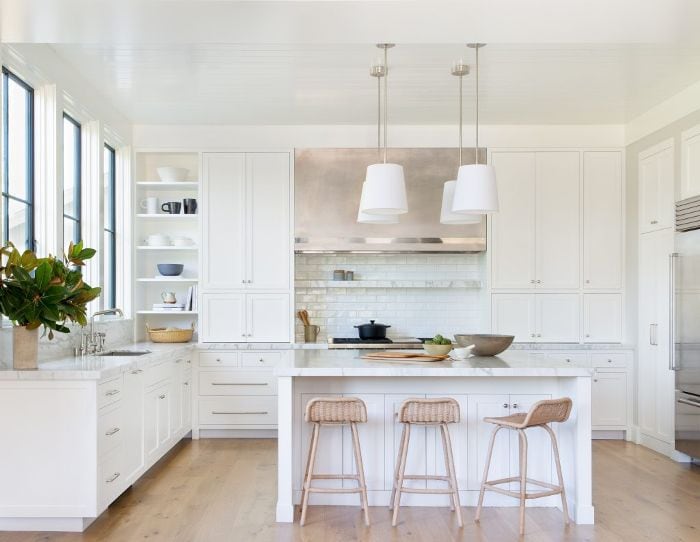 Monochrome kitchen design 2 : The luxurious black kitchen
At the opposite of the white kitchen, but at least as chic, the idea of arranging your kitchen in black tones is an excellent option. Black is synonymous with elegance, simplicity, sobriety and mystery. In a very urban decor, like a condo or townhouse, the black kitchen is well fitted. Another interior designer trick to plan well your kitchen is to make sure to have a good lighting, especially in a darker kitchen. To do so, I advise you to plan for the lighting to be beneath the highest cabinets' caisson, many recessed bulbs at the ceiling with a dimmer and suspensions over the island. We usually see the black kitchen concept in modern and refined designs.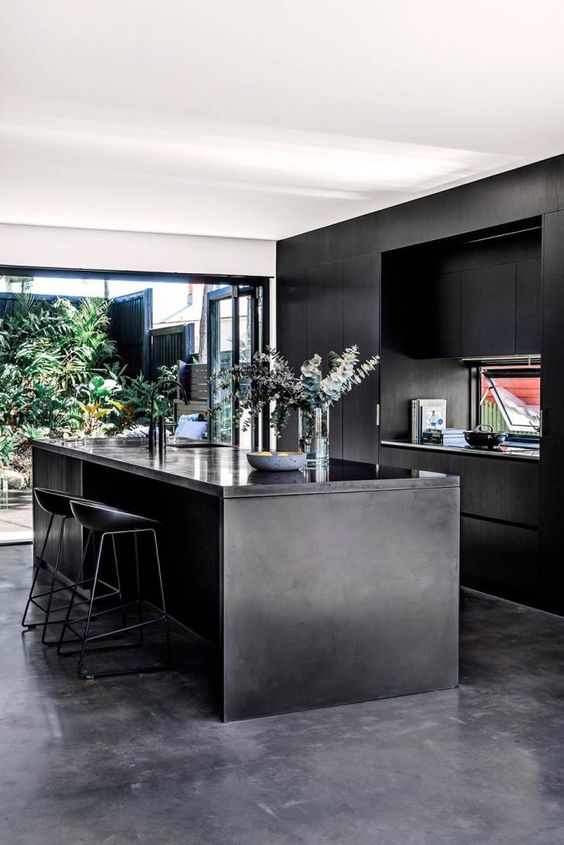 You, in your dream kitchen, what would we absolutely find? Write it in the comments below. I look forward to hearing from you!
For your kitchen layout, don't hesitate to contact us to make an appointment right now to be able to enjoy as quickly as possible the beautiful upgrades we will make!
Since many years, my team of seasoned designers helps owners to create epic designs without having to manage the technical challenges.