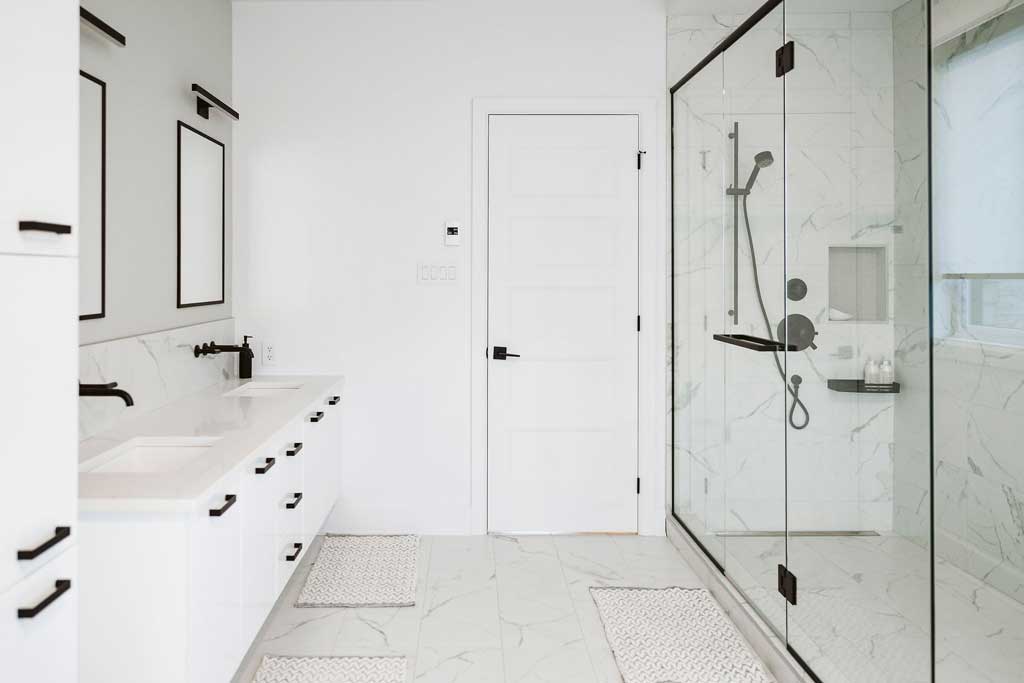 WHAT IS THE COST OF A BATHROOM RENOVATION
The question that burns the lips of many of my clients: How many should I provide for renovating my bathroom?
With the numerous decoration shows that we see on the television, people got a wrong idea of the true costs of renovation. In many cases, the shows are sponsored by a lot of providers (we often see their logos in the bottom of the screen). And, if we listen attentively, the general contractor's fees or the designer's fees are taken in charge by the show! The mentioned budget therefore corresponds only to materials and sanitary equipments. It is normal that you wonder how to evaluate the costs of making a bathroom worthy of your dreams! I'll help you decorticate all this!
Quickly, I can tell you that you should expect costs ranging from 10 000$ and 30 000$, even more. Welcome in reality, I explain in another article why renovation is so expensive. Renovating your bathroom is an important investment that will increase your property's value, you will be able to get back 60 to 75% of the invested money in your bathroom's renovation! Therefore, I invite you to renovating a couple of years before selling so you can benefit from it at least!
Now, here are more in depth the variables that influence the price of a bathroom renovation.
The principal factor is the dimensions of the bathroom! If we talk about a standard bathroom of 5'x8′ with a bath-shower, a toilet and a little vanity in hall, the renovation budget will be smaller. While a vast bathroom of 10'x14′ with a freestanding bath, a ceramic shower, a custom made vanity and custom made cabinets will have a higher renovation cost, around 30 000$.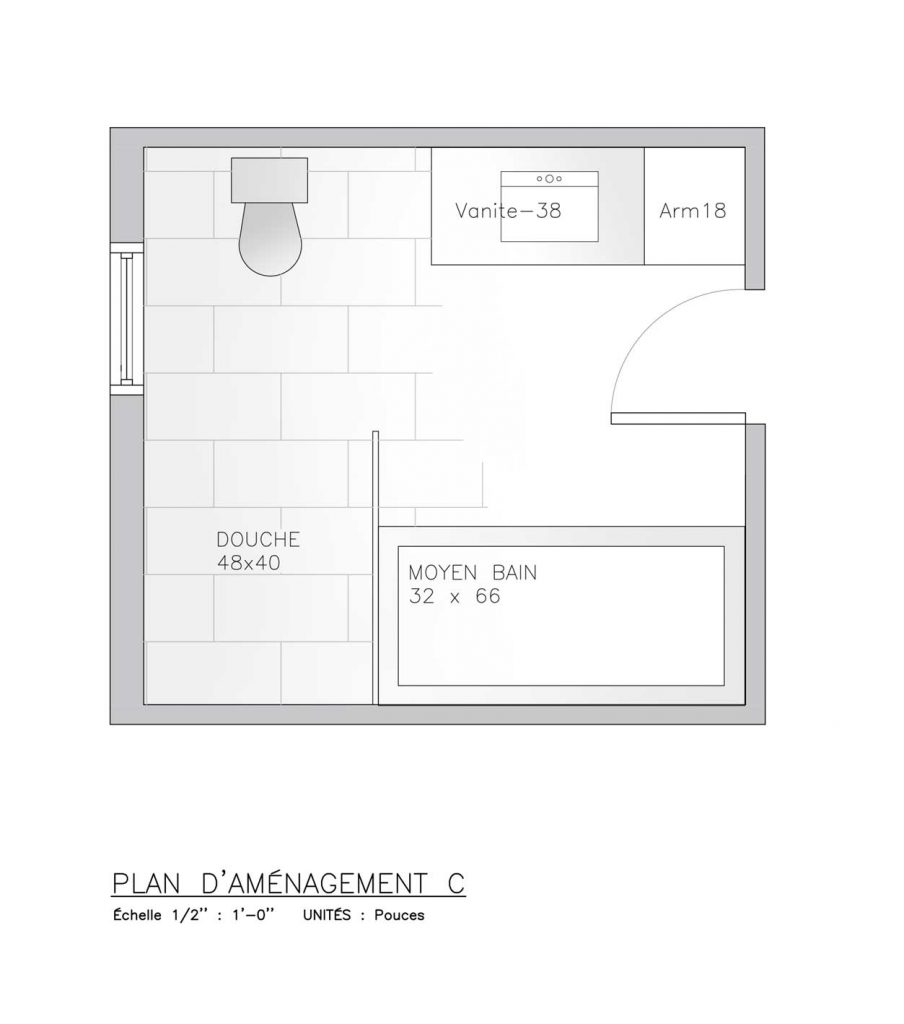 Another factor to consider is the changes in plumbing layout. If we change the piping, we must call a plumbing specialist. A plumber charges around 90$/h and we should add to that the transport and the hardware. Si if the changes in the plumbing placement become complex because of a structure matter, the invoice can quickly increases. However, we should not limit ourselves to much when moving the plumbing since it is sometimes what makes a bathroom design a success or not. For example, if the total cost of your bathroom is 20 000$, but in the best case you would have liked to move the toilet for an extra cost of 1 500$, it is worthed it to invest that additional amount to really have the wished result.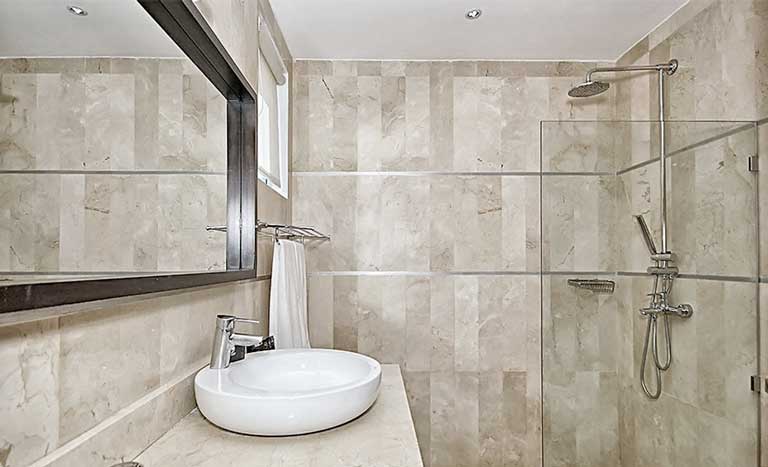 The third factor that will influence the renovating cost of a bathroom is the choice of materials. We live in an era where there is a panoply of choices for materials, each more surprising than the next. Businesses innovate each year to show us new materials, finishes and textures to integrate in our designs to make them as unique as possible! As in every type of products, we find luxurious materials, accessible materials (good quality/price ratio) and materials available in big surfaces at competitive prices. What I recommend as an interior designer is to mix more WOW materials at strategic places in the design and to use less expensive materials that fit well with the rest of the design! Like this, we create a unique and affordable design and we don't affect the general impression of a bathroom! The WOW effect will be there! For example, a beautiful ceramic similar to the one we see in the picture beneath of an impressive showroom bathroom can easily be sold at 39$ per square foot. Quickly, if we make an accent wall of 10'x8′, we reach an invoice of 3 120$ only for that ceramic portion. Grout, glue, finishing molding and installing aren't included!
Then, the furniture and plumbing elementswill also influence the cost of the bathroom renovation. First, for the vanity, you have two choices : either purchasing something pre-made in department store (Home-Depot, Bain dépot, Ikea) or integrate a custom made furniture. You know that the second option is more expensive! We talk about 2 to 3 times more expensive, because a furniture will be made in Quebec by a cabinetmaker. The product's quality will be superior and, above all, you will have all the thinkable possibilities to choose your furniture. To have the more functional bathroom possible, I recommend without a doubt custom made furnitures. Also, the quality of plumbing elements you will choose will influence the cost of your bathroom renovation. We find baths between 500$ and 3 000$ ! You see…not so easy to provide a predefined budget for a bathroom! For the ceramic showers, we should also add an extra to the budget. We talk about 4 000$ to 5 000$ to have a beautiful shower with glass panels.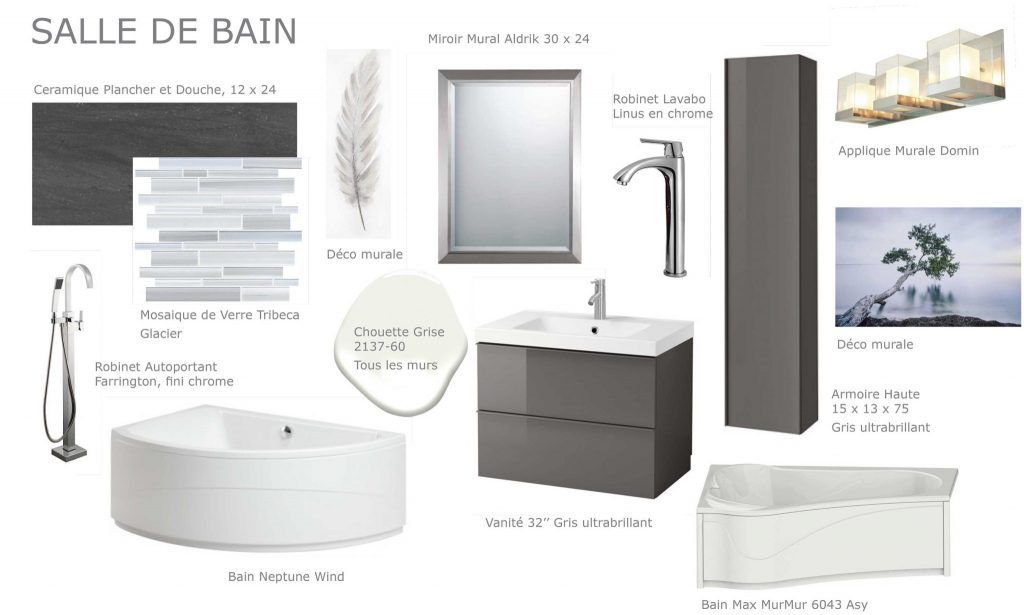 Here is a table to show you visually the variability of prices between different ranges of materials and plumbing furnitures.
Renovation type
Minimum cost
Mid-range
Top of the line
Bath + Installation

1 500 $

3 000$

5 000$

Shower + Installation

1 400 $

4 000 $

7 000 $

Custom made shower

2 900 $

5 500 $

10 000 $

Ceramic floor + installation

5 $ per square foot

9 $ per square foot

13 $ per square foot

Heating floor

between 3 $ and 4,75$ per square foot

Toilet +Installation

350 $

500 $

850 $

Lamps, accessories + installation

540 $

1 640 $

2 640 $

Sink cabinet + installation

600 $

1 500 $

3 000 $

Shower tap

250 $

400 $

600 $

Sink tap

150 $

250 $

500 $

Extra for unforeseen

2 000 $

6 000 $

10 000 $

Consultation of specialists (architect, designer or decorator)

between 5 and 10% of the total cost of the bathroom renovation
The general contractor's workforce fees represent 50% of the cost of the bathroom renovation. Yes it is a lot! This is explained by the fact that contractors are RBQ certified, the must pay permits and be covered by numerous insurances that are expensive and essential. Check the contractor's license and ask him for insurance proof before signing the contract with a business. This could avoid you many problems. The specialized jobs that are the costliest are plumbers and electricians. If you renovate the bathroom of your principal residence, know that you have the right to not hire a general contractor to manage the project. You can hire specialized professions such as carpenter, plumber, electrician. However, you will be responsible to give them clear instructions so that the final result is like you imagined it. At this moment, you have interest in having a layout plan and an electric plan to avoid communication problems! An interior designer could give you these documents.
Finally, the fees for an interior designer who would guide you in every step of your renovation project to save you time, worries and money are a judicious investment instead of an expense. Fees range from 5% to 10% of the total cost of your bathroom renovation. If you want to understand the several advantages of hiring an interior designer, read this article.
I advise you to ask for many general contractor's submissions and to compare them. Make sure that everything you desire is included in the submission. If there are things that aren't mentioned or that are forgotten, fees will be added to the invoice at the end of the project! Don't forget taxes when planning your budget. For example, if you get a 15 000$ submission, with taxes we find ourselves with a total price of almost 17 500$.
To give you a concrete example, here is a bathroom I realized for a client. This bathroom is of medium size (9′ x 9′). We chose department store's furnitures and good quality materials at average prices. Many selections have been made in Home Depot, who has a big choice of quality design and affordable materials. In this room, there is an independent ceramic shower and a freestanding bath. There were major plumbing layout changes, such as switching the toilet from one wall to another and adding the necessary water exit for the new bath's position. For electricity, recessed bulbs were added to the ceiling and an electric exit was displaced on the wall.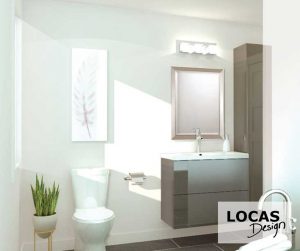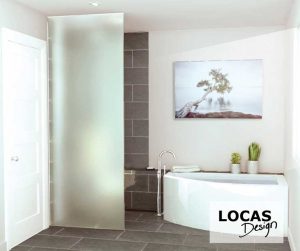 Now that you understand well the design, here is the estimation from a general contractor to realize this project. This submission holds an informative title only, if you desire more informations I invite you to communicate with me.
DEMOLITION

(Container location, removing ceramic, removing sanitary appliances, etc.)

1 894 $

STRUCTURE

(Providing and installing plasterboard, sealing and painting walls, installing ceramic, making the shower drain, etc.)

7 952 $

ELECTRICIAN

(Providing and installing fan, providing and installing 4 recessed bulbs)

1 168 $

PLUMBER (Installing all plumbing appliances)

1 791 $

MATERIALS AND ACCESSORIES (Shower, sink cabinet, cabinets, decoration, ceramic, etc.)

5 500 $

ADMINISTRATION AND PROFITS (Project management by general contractor)

2 745 $

TOTAL BEFORE TAXES

21 050 $
MEMORY AID
To conclude this article, here is a list of items you should foresee to calculate your renovation budget. A professional such as a contractor or an interior designer can help you with all this, but if you wish to make a first estimation by yourself, this list will help you.
Toilet

Bath
Bath tap
Shower (glass panels, gypsum, shower base, drain)
Shower tap
Sink cabinet (counter, pharmacy, mirror, sink)
Sink tap
Storage cabinets
Ceramic floor
Bathroom accessories (towel holder, etc.)
Lamps
Heating
Fan
Thermostat
Doors and moldings
Paint and finishing
Workforce
Window dressing
Decoration
Designer fees
At the end, we should forecast a budget ranging between 10 000$ and more than 30 000$ for renovating your bathroom. Factors that influence the costs are the size, the plumbing and electricity layout changes, the material choices, the workforce choice and the furniture choice.
To plan a renovation plan for your bathroom, take an appointment with me.