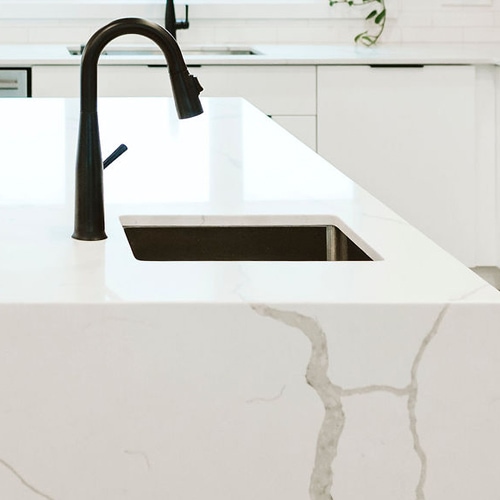 WHAT'S THE DIFFERENCE BETWEEN QUARTZ AND GRANITE ?
The trend of stone counters isn't only at the luxury products level anymore, it is a must for any kitchen. We don't really use anymore laminated countertops, even in condominium or apartment's kitchen or bathroom renovations. We rather choose pretty quartz counters.
Stone counters are appreciated for their richness and their elegance, the kitchen and bathroom design possibilities being endless.
I give you some examples of quartz or granite usage in kitchen design:
Usage as a counter top
Waterfall (fallout of quartz on a side of the island)
Kitchen cabinet door top
Kitchen backsplash (to have a uniform and luxurious look)
Shelf or window frame
Sink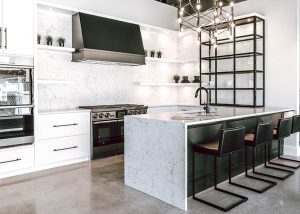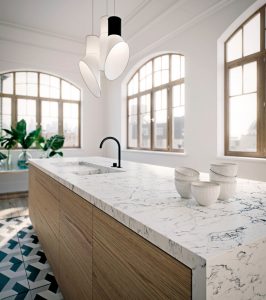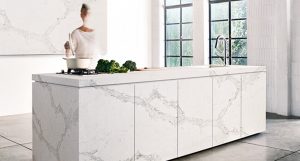 As for the bathroom, granite and quartz are wonderful materials to use to achieve an impressing design. Here are some frequent usages of stones in bathroom design.
Vanity countertop
Shower wall
Vanity headboard
Wall, shelf, etc.
Sink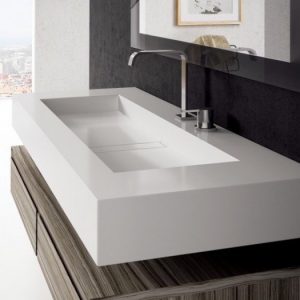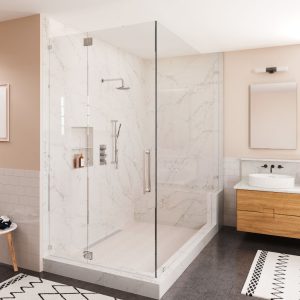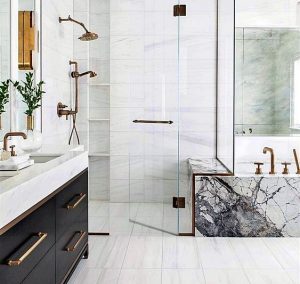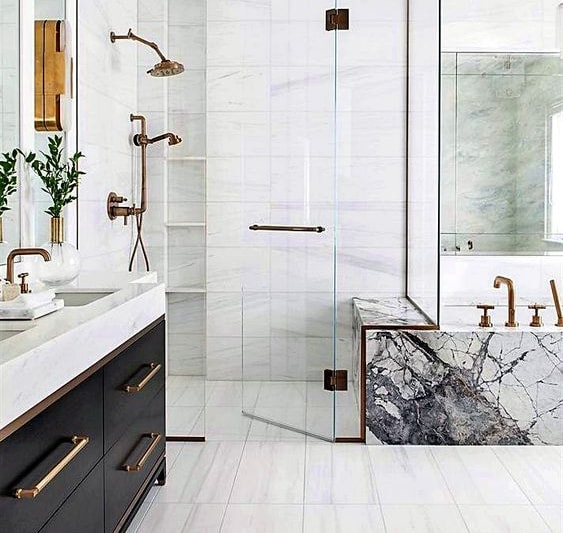 As much as the designs are endless, there are as many choices on the market for products, colors and finishes. I explain in this article how to differenciate them in order to make an informed choice for your future kitchen or bathroom renovation.
QUARTZ
Extracted from mines from around the globe, quartz is composed of an assembly of minerals held together by resin. Entirely fabricated, it offers a multitude of colors and patterns ranging from the most unique to the most sober. In fact, its large variety is almost infinite. Non porous, it is stain resistant, choc resistant and scratch resistant. Furthermore, unlike wood and granite, it requires no sealant, which makes it easy to maintain. Only soapy water is enough for daily maintenance. Finally, it is durable, waterproof and antibacterial, which makes it a perfect work surface. Quartz is the most popular choice among our clients for kitchen counters considering its easy maintenance and numerous color and design choices. For example, if you wish the whitest of counters for your kitchen, you better go with quartz because granite and marble have more grey inside since they are 100% natural. There is a lot of choices of quartz that mimic marble, they are magnificient. As for the price, quartz isn't much more costly than granite.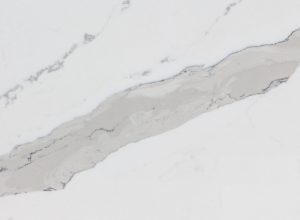 How to know if my quartz counter is of good quality?
First, it is important to know that, unless you are an expert, it's really difficult to determine if your counter is of good quality until problems start to appear. In fact, some businesses use products made in China that are of poor quality. However, certain points can be checked when buying your counter to avoid unpleasant experiences.
Before anything else, make sure you buy at a recognized quartz counter supplier. Like this, you'll have the certainty that the mix of minerals and resin is ideal. A proportion of 90% or more of minerals for 10% or less of resin is entirely acceptable. Outside of these numbers, caution is advised.
My favorite firms are Caesarstone and Hanstone (Made in Canada).
Also, make sure you purchase a quality product. Ask for CE, NSF and Greenguard certifications, which mean that the product answers to all of the European and North-American standards. By purchasing at a reputed supplier, you'll buy a product that is reliable and traceable and you'll be able to determine its quality.
GRANITE
Besides quartz, granite counters are also one of the most used materials. Granite is in fact a trimmed and then polished raw stone before being installed in your home. Available in a polished, antique or matt finish, granite offers a wide range of colors just a little more restricted than quartz. Each piece being different, it is inevitably constituted of varied colors and textures, often more bickered than quartz. Thereby, design will often be based on the chosen slab. Also, it's important to know that samples can sometimes differ from the showroom examples since no pieces are identical. It's therefore a good idea to go directly to the supplier in order to make an informed choice. Of a hardness similar to diamond, granite is a really hard stone that is scratch resistant. However, it isn't recommended to slice food directly on the counters since knives can get damaged. Containing no resin, granite offers an excellent resistance to temperature changes.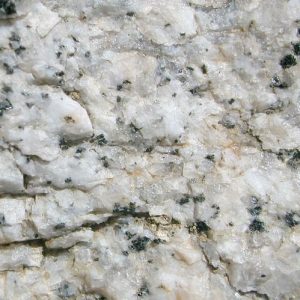 Finally, to avoid stains, a sealant should be applied once a year and a good wash after each use is advised. Granite is more often used for kitchen counters than for bathroom designs.
MARBLE
Luxurious, marble is a natural stone derived from limestone. Presenting a beautiful range of clear shades, it offers an uncluttered, elegant and charming look. Because of its very changing aspect, it fits with every decor, from classic to modern. Heat resistant and durable, marble is a beautiful addition when appropriated care is given to it. Therefore, it is really porous and not stainproof, having the tendency to loose its shine when in contact with acidic elements. A yearly application of sealant is something to avoid neglecting. This type of surface requires a vigorous maintenance as well as a frequent polishing, which isn't an easy task. It is therefore preferable to use it in bathrooms, places where the risks of contact are negligible. These exceptional patterns will give an exceptional look to your bathroom.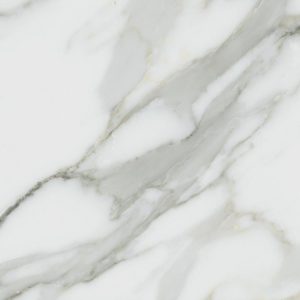 Finally, whether it's quartz, granite or marble that you choose to add to your kitchen or bathroom layout, you'll have no regret concerning their value. It is however very important to get informed by specialists in order to make a judicious choice concerning the product, its quality and its design.
Moreover, it is advised to ask for the services of reputed installers such as Ceragres or Summum Granit to obtain an impeccable result. Certain thing, counters are trendy. By themselves, they create ambiances and exceptional designs as well as adding to your house's value.