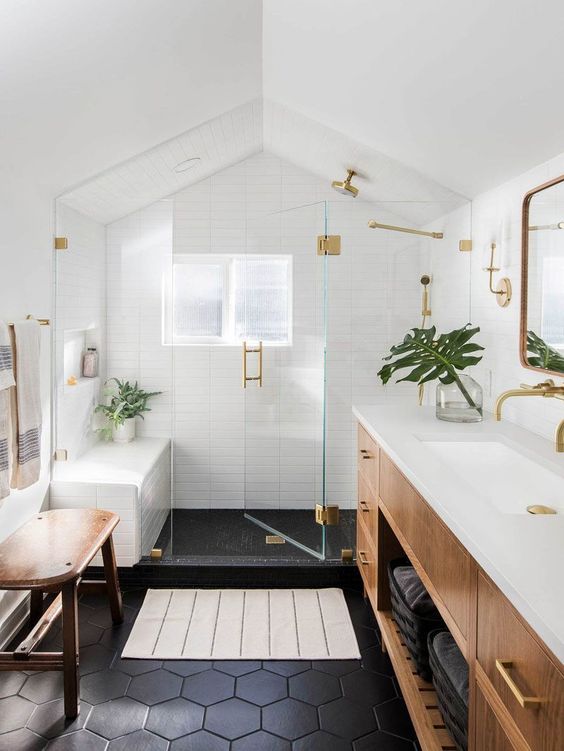 CREATE THE BATHROOM OF YOUR DREAMS
Would you like to have a beautiful spacious and luminous bathroom for you to rest in after long days at work? Also, you would like to have a magnificent freestanding bath that invites for relaxation and a large and comfortable glass shower. You dream of having a functional vanity, easy to maintain with plenty of well planned storage in the layout of your bathroom?
As we can see in the television shows on Canal Vie, such as "C'est quoi ton plan" with designers Caroline Larocque, Isabelle Viau and Ève Champagne, people invest around 25 000$ to renovate their outdated bathroom. Interior designers create innovative and surprising concepts to answer the needs of the client, they maximize every square foot of space. The advantage in asking for the help of an interior designer is that we work with reliable collaborators and experts in construction: cabinet maker, general contractor, installer, etc.
Here are some ideas to help you define and plan what you would really like to include in the design of your dream bathroom. There is a panoply a other basic elements that you should find in the layout of your bathroom (plumbing, storage furniture, sanitary equipment, etc.) that I didn't list but that you will be able to discuss during your first meeting with your interior designer.
Idea 1 to integrate in your bathroom design: A DOUBLE VANITY
The tendency is to big and long suspended vanities with two sinks in bathrooms. Why two sinks, you'll ask? Well, in houses where there is only one domestic bathroom, it avoids some conflicts on the mornings of the week! We also see this concept in a few master bathroom designs, one sink for the lady and one for the mister, like this each is responsible for the cleanliness of his or her sink!! If you opt for a quartz counter, it will enable you to install the tap under the counter (under-mount) and have a very beautiful clean finish that is easy to maintain. The only disadvantage in having two sinks is that, with the plumbing pipes, it takes a lot of space in the vanity cabinet, therefore it removes storage.
Basins are still popular in bathroom designs, but in a different format, rounded, more elongated and less deep. As an interior designer, I particularly like the one-piece counters with integrated sinks, either molded in acrylic or in porcelain, or even in concrete, quartz or stone! For a design look, choose them in a thickness of almost 4" , those that have only 2" give a less spectacular impact.
Idea 2 to integrate in your bathroom design : A FREESTANDING BATH
If your bathroom is from the 2000 or before, you probably find yourself with a big podium bath in angle covered in orange or blue ceramic? Let's say that it made its time! It's crazy to think about the fact that it has been more than 20 years that the year 2000 passed. The year that we thought to be the end of the world…well not me, but many groups of persons! All this to say that, in renovation, a bathroom design has a lifetime of around 20 years, after that it is outdated and it doesn't correspond to the needs of the users. Our life habits change from one decade to the other and it affects directly the conception of our houses.
A pretty freestanding bath it the featured piece of your bathroom layout. This type of bath is a bath that stands alone, it can be placed on the ground without any additional furniture. It must be well placed, ideally centered at the back of the room and in front of a window. Don't worry if it isn't possible to make this arrangement in your bathroom. Interior designers are creative to find original layouts and maximize space. Have you already seen a bathroom concept with the freestanding bath directly in the glass shower's cubicle? It is wonderful, it also allows for the creation of a certain humidity and warmth in the bath section, so that it isn't cold when we get out of the bath. In the picture below, we can see the bathroom design of Jessica Alba's house.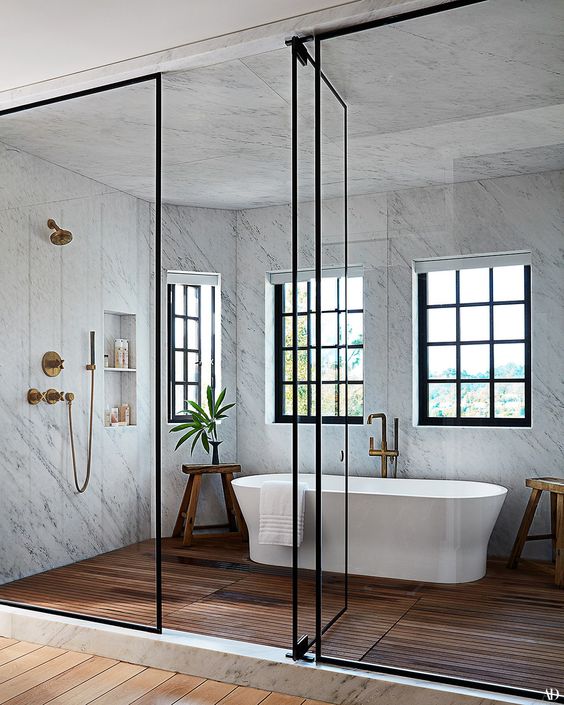 Idea 3 to integrate in your bathroom design: AN ITALIAN SHOWER
The Italian shower comes from roman thermal baths and refers to the showers that were entirely made of floor tiles at only one floor level. The concept has been adapted for the design of our Quebec's bathrooms, but the two principles of an Italian shower is to have the walls and floor in ceramic and to have the minimum of glass wall. This concept is really design, discrete and easy to maintain. Since it is a custom made shower, it adapts to every bathroom layout.
Here are some interior designer advices, to avoid you many deceptions.
An Italian shower is especially difficult to realize, the project should be entrusted to contractors and tilers that are experts in this type of project. You must install a Schluter waterproofing membrane before putting the ceramic. As for the choices of ceramic, I suggest you prioritize large tiles to reduce to the maximum the quantity of grout, which is hard to maintain. For the floor, you can also choose large tiles, however you should use a linear drain at this moment. To use a central drain, you have to create a light slope in every direction, therefore you must ideally use 2×2 mosaic or smaller.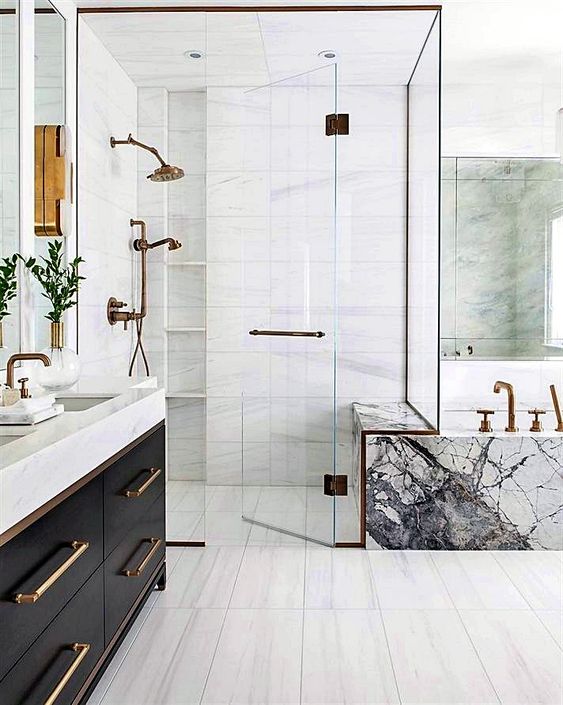 Idea 4 to integrate in your bathroom design: A SKYLIGHT IN THE SHOWER
Depending on where is located your bathroom and at which floor of the house, would it be possible to add a skylight to it? If it is, then I advise you to seriously consider this option because it's really pleasant to have a skylight just above the shower. It gives the impression to have an indoor/outdoor shower. If you don't have a direct access to the sky by your bathroom ceiling, there is the light led. It's a tunnel that brings the natural day light.
At the end of it, there is a sensor that reflects the light rays toward a lens diffuser situated on a kind of ceiling light in your bathroom. It gives the effect of an exterior window, but without the landscape.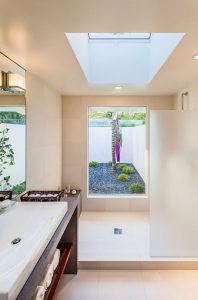 Idea 5 to integrate in your bathroom design: A NICHE AND RECESSED STORAGE
Sophisticated bathroom designs stand out because of the presence of niches and storage dissimulated in walls and executed with precision. As an interior designer, I suggest to plan some decorative niches and some utility niches. Example, in a shower, planning a beautiful elongated niche on the featured wall of the shower, and in the little walls planning for niches to store products, shampoo bottles, etc. As it isn't very beautiful to see a niche full of products, it's better to place them in a discrete spot. If you have a freestanding bath in your bathroom design, I recommend creating a niche in the wall behind it to place some decorations and it will also serve as a shelf when you take your bath. With the DEL lighting products available on the market, it is really easy to integrate a light beam in the top of the decorative niches. In playing with the lights and textures, you can create a high end and sophisticated look.
Idea 6 to integrate to your bathroom design: A DOG SHOWER
OK, maybe not installing a dog shower directly in your bathroom layout, but instead in your laundry room or in a mudroom at the back of the house. Such a beautiful idea to facilitate doggy's maintenance. The shower can be very pretty and aesthetic in the room while being functional. As a designer, I'd have fun doing a little funkier design with ceramic tiles. The dog shower's construction is the same as with the Italian shower. That is to say that the floor and the walls are made of ceramic with a waterproofing membrane and custom made glass panels are installed to create a door. Depending on if you have a tiny or a big dog, plan the height of the shower in consequences, you could even raise the floor.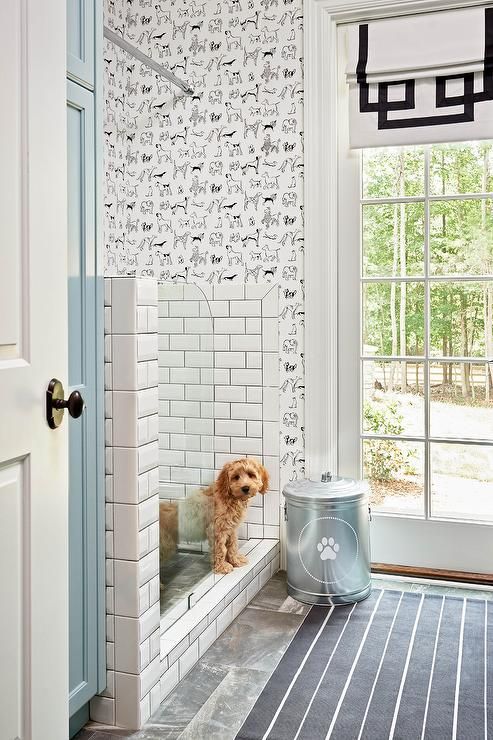 Idea 7 to integrate in your bathroom design: A WALL TOILET
The evolution of toilet design has well evolved in the last years to improve the design of our bathrooms. Companies have found out that toilets with a molded shell including several depressions are difficult to clean for the user. There are models with full and smooth shell (so without pits), it is already more practical, but not the most design. The suspended toilet steals the show, she is practical, elegant and easy to maintain. The working of this type of toilet is that the plumbing and the tank are on the wall. Almost 6" of space in depth is required to install the systems. Since walls normally have 4-5", you have to blow lightly an existing wall to install your wall toilet in your bathroom design. Some models of suspended toilets are available in matte black for a very modern and actual look.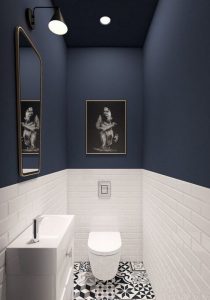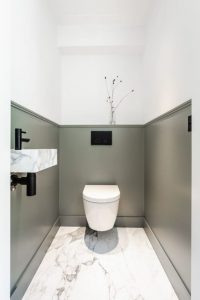 Idea 8 to integrate in your bathroom design: A LOT OF CERAMIC
Among the beautifulest bathroom designs I created, I prefer those with ceramic on most of the walls, or at least with a texture or pattern. The reason is that it makes a bathroom design more finished, uniform and top of the line. Depending on the layout of your bathroom, if you already have two walls partly covered in ceramic to create the shower walls, I advise you to continue the ceramic on the whole wall.
If you are not fan of having to much ceramic walls, I recommend you to use tapestry walls or textured panels. Warning, here is another little interior designer advice, make sure to use humidity resistant materials. If you opt for a tapestry, look on the back of the pattern the number of waves indicated, it represents the resistance rate to humidity. For the panel option I quite like to use the design panels of Mur design, especially the wainscot pattern which gives a pretty cachet.
You, in your dream bathroom, what would we absolutely find? Write it in the comments below. I look forward to hearing from you!
For the arrangement of your bathroom, don't hesitate to contact us to make an appointment right now to be able to enjoy as quickly as possible the beautiful upgrades we will make!
Since many years, my team of seasoned designers helps owners to create epic designs without having to manage the technical challenges.
Contact-me