CREATE YOUR DREAM HOUSE
The dream house that you imagine since you were a kid is in the city or in the countryside? Or like most families you opt for a house in Montreal and a chalet/dream house in the country near a lake? In your dream house, you want at least a big beautiful and spacious kitchen to cook for your family and your guests. You want a shower room on the ground floor and many bathrooms on the other floors, ideally one per bedroom. Also, you want a beautiful and big laundry room all clean and easy maintenance situated on the first floor. Then, in the musts, you need a vast entry with a lot of storage, an open air lounge/dining room, a bathroom with a podium bath and a walk-in (essential).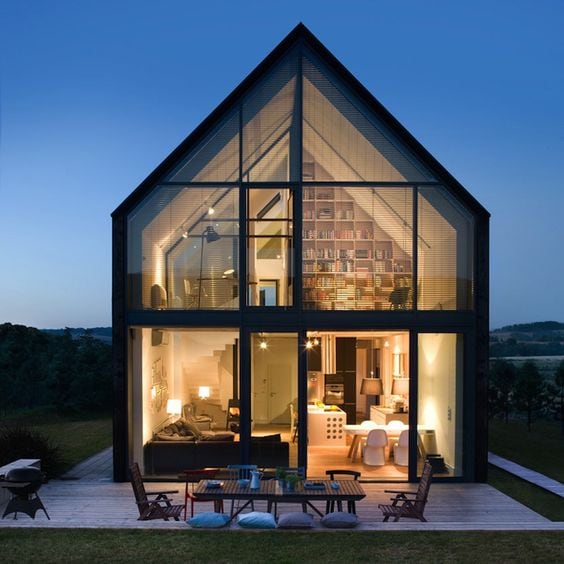 If you opt for a new construction, either self built or the house of a sponsor, you will maybe need the help of an architect or an interior designer. It is important here to define well the roles and choose well your professionals. In short, an architect will help you make the exterior and structural design of the house so that it respects city standards, the building code and mostly so the concept suits well your lifestyle. The architect will also block the functional spaces of the house, which means a preliminary defining of the positions of the kitchen, bedrooms, bathrooms, etc. It is at this moment that the interior designer enters the game to tweak the interior layout and define all the rooms' design. Often in my interior design contracts, I take the architect's plans to improve the storage, certain openings' position and the layout of the kitchen and bathrooms. An interior designer will linger longer on the tiny finishing details to make sure the house corresponds to you.
Here are some very original ideas to integrate to your dream house. Give yourself the right to dream big and we will show you that there is no limit today when it comes to interior design and architecture.
Idea 1 to integrate to your dream house design: A NET FLOOR
For the parents as well as for the children, integrating a net floor in guise of permanent hammock is more than amusing! It is perfect for naps or the kids' parties! As an interior designer, I recommend arranging the net corner in a mezzanine or on the first floor just above the stairs for a spectacular effect.
Idea 2 to integrate to your dream house design: A BATH IN FRONT OF A WINDOW
Interior architects or designers excel in the positioning of windows in a house to suit the interior use. In interior design theory, a podium or recessed bath should be placed in front of a window to allow the user to relax well. We agree that relaxing in front of a wall isn't super inspiring. In practice, however, this theory isn't always applied. In certain condos or small houses' interior layout in the city it isn't possible, but, otherwise, there is no excuse to not recreate this design and this balance in your future house.
Idea 3 to integrate to your dream house design: ONE OR MORE SWINGS
This idea is really simple and easy to integrate in your house layout. For example, you could install suspended chairs in your children's bedrooms, some swings in your house's basement or even swings instead of stools at the island. Swings add a touch of youth and freshness in an interior design, even if their look is modern and refined.
Idea 4 to integrate to your dream house design: A BENCH IN FRONT OF A WINDOW
A beautiful bench well placed in front of a big window in your house layout invites cozily to relax. It can serve as reading corner, or of meditation space while watching the rain. If you have kids, they will crave to lodge themselves there for a bit of reading. Creating a pretty bench integrated to your house is a beautiful interior design signature.
Idea 5 to integrate to your dream house design: AN OUTDOOR BAR
The trend has been to outdoor kitchens and living rooms since a few years, we want to enjoy the warmth of summer at its maximum. If your kitchen's layout enables it, I advise you to install a sliding or accordion window that gives on an outdoor bar counter. I realized this type of design in 3 and 4 seasons sheds and this concept is really a favorite.
Idea 6 to integrate to your dream house design: A BOOKCASE WALL
Do integrated bookcases as seen in the movies Harry Potter and The Beauty and the Beast make you dream? If you like books, like me, you would certainly like to recreate beautiful custom made library designs in your living room or office. For that, you have to work with a cabinetmaker for the construction and an interior designer to conceive the furniture. If you wish to add a little vintage touch, I recommend including a ladder.
Idea 7 to integrate to your dream house design: A SECRET PASSAGE
When interior designers conceive interior layouts, we try to place the doors in discreet places to make the whole pretty and balanced. In some cases, it isn't always possible and a good idea to hide a door is to make it disappear in an integrated furniture such as a bookcase. Also, it adds a little mysterious side to the house.
Idea 8 to integrate to your dream house design: A TREE HOUSE
For your backyard layout, think about integrating a pretty little house perched in a tree. It can be used by your children to play with their friends. If you don't have kids, the design of such a cabin can be a place of meditation or outdoor work. Be creative and have fun with both the interior and exterior designs!
Idea 9 to integrate to your dream house design: A GLASS CELLAR
If you really wish to exit the deja vu in arranging your kitchen, a glass wine cellar is a must. You can integrate it to the dining room and the kitchen to make a half-division and highlight it. It shouldn't be too imposing, everything is a matter of proportion. A kitchen designer will be able to make 3D simulations with your kitchen concept.
To build a glass wine cellar in your kitchen's layout, there are some important elements to consider. We must choose a good air conditioner to keep the room temperature to an ideal degree for the wine's conservation depending on the size of the room. Then, the glass and the door system choices should be impervious. The glass is custom made by a glazier. For the shelves design, wall covering materials, etc., there is no real restriction, it depends on your tastes.
Idea 10 to integrate to your dream house design: A DOG SHOWER
The ideal spot to arrange a dog shower is in your laundry room or a mudroom at the back of the house. Such a beautiful idea to facilitate doggy's maintenance. The shower can be very pretty and aesthetic in the room while being functional. As a designer, I'd have fun doing a little funkier design with ceramic tiles. The dog shower's construction is the same as with the Italian shower. That is to say that the floor and the walls are made of ceramic with a waterproofing membrane and custom made glass panels are installed to create a door. Depending on if you have a tiny or a big dog, plan the height of the shower in consequences, you could even raise the floor.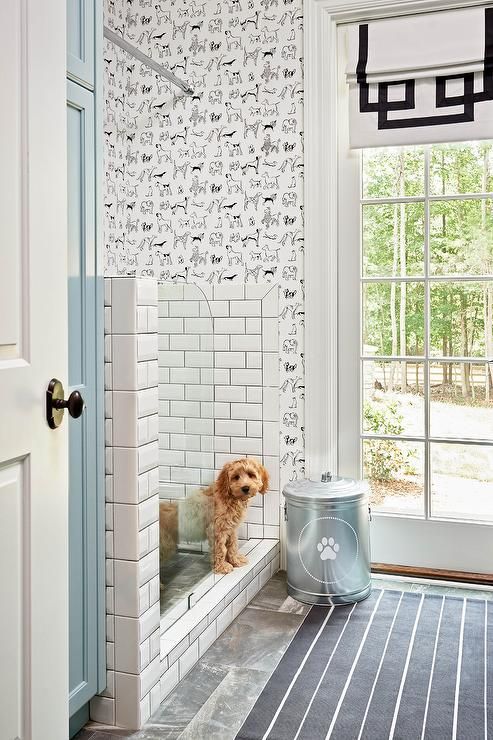 Idea 11 to integrate to your dream house design: A SPECTACULAR STAIRCASE
In my job as interior designer, I always found that a staircase is the featured item of a majestic decor. It must be highlighted. Whether it is a modern design with glass ramps or round stairs with a wrought iron ramp, if it is well realized it can be sensational.
Idea 12 to integrate to your dream house design: A SAUNA
As we now know the benefits of sauna and relaxation, we can't do without. It is not always easy to go to the spa as often as we'd like, it's for this reason that many families decide to arrange a sauna in their house. There are independent saunas alimented by electricity that you can install on your yard. Barrel shaped models from Dundalk pass the design test.
Otherwise for a professional spa look, you can integrate a custom made spa in your house layout.
Idea 13 to integrate to your dream house design: A GREEN WALL
It is proven that plants have an excellent effect on humans. If they are present in large quantities in an interior, they can make the atmosphere more pleasant to its occupants. They emit negative ions, particles supposed to fix dusts, improve respiration and well-being. Finally, plants absorb pollutants, which contributes again to improve the air quality in interior facilities. Not considering the fact that their sight has an appeasing and unwinding effect. You have no reason not to integrate pretty plants to your interior designs.
Idea 14 to integrate to your dream house design: AN OUTDOOR DAY BED
The trend is to outdooring, we take the interior design outside! Read my blog article on the backyardlayoutto have ideas. In the last exterior design contract I realized, I suggested to my clients to install a day bed on their secondary terrace. Choices on the market are amazing! I recommend Jardin de ville, to find unique and elegant designs.
Idea 15 to integrate to your dream house design: AN OUTDOOR KITCHEN
To build a lasting outdoor kitchen, it is essential to use the right materials to survive Quebec's temperatures. We must avoid wood if the outdoor kitchen is 100% exposed to the sun. We also advise to use material composites that are insensitive to temperature. For example, using stones or bricks to make the structure and integrating kitchen appliances in it is a good idea. For the counter, we suggest marble or granite which are natural stones and therefore should fit well with your backyard design. For storage configuration, we prefer stainless steel cabinets and drawers!
Idea 16 to integrate to your dream house design: A SKYLIGHT
If I could integrate a skylight to all my interior design projects, I would. For example, you could add a skylight to your bathroom, above the shower. If the interior layout allows it, I advise you to seriously consider this option because it is really pleasant to have a skylight just above the shower. It gives this impression to have an indoor/outdoor shower. It can be interesting to also include a skylight in a kitchen, above the island, or even in the bedroom above the bed.
Idea 17 to integrate to your dream house design: A ROOF TERRACE
Having a terrace on the roof, in the city, is very pleasing, we can't really hear the cars anymore and it is more intimate than a terrace on the front of the house. Maybe if you live in the suburbs or in the countryside you think that you don't need an in height terrace because you don't have neighbours…In my design journey, I arranged on some occasions vast terraces in height on the second floor of a house. The advantage of being in height is that there is way less mosquitos and the view is splendid at tree level.
Idea 18 to integrate to your dream house design: AN INDOOR GREENHOUSE
With the trend of consuming local, there is a strong infatuation for cultivating fine herbs and vegetables by oneself. To do so, you need a little indoor greenhouse if you wish to have vegetables all year long. If you have enough space in your house, or you desire to build a small extension to arrange an indoor greenhouse, it is possible. If you don't have the place, you can simply create a shelter in your courtyard. Do some researches on Google to know how to build your own greenhouse with wood beams and glass or Plexiglas panels.
Idea 19 to integrate to your dream house design: A SLIDE
This idea of including a slide in your basement's interior design is more for the joy of your little ones! Admit that everyone will want to organize kid parties in your house! To conceive an indoor slide, you will, or your interior designer will, have to contact businesses that conceive playground modules or businesses in rotational molding.
Idea 20 to integrate to your dream house design: A WALK-IN
The walk-in is really a must today. We wish to have beautiful clothes for every occasion and it takes space and storage. I talk about the best way to organize storage spaces in my free ebook. Transform your house in a well-being space. To conceive a successful walk-in, a really good planning is required. As an interior designer, I helped many clients with this type of project. The realization is made by a cabinetmaker since custom made furniture must be made.
You, in your dream house, what would we absolutely find? Write it in the comments below. I look forward to hearing from you!
For the design of your new house or for a renovation project, don't hesitate to contact us to make an appointment right now!
Since many years, my team of seasoned designers help owners to create epic designs without having to manage technical challenges.
Contact-me